---
Start washing ecologically with a package that contains a natural laundry detergent, a water softener and a washing bag that catches microfibers. This convenient package is the basic equipment for every ecological household! More
Product code: SET003Shipment and payment
Original price 39,60 EUR. save 10% (4 EUR) 35,60 EUR
Start washing ecologically with a package that contains a natural laundry detergent, a water softener and a washing bag that catches microfibers. This convenient package is the basic equipment for every ecological household! More
Product code: SET003Shipment and payment
Natural Laundry Detergent
The ecological laundry detergent of the Czech brand Tierra Verde contains extracts from BIO soap nuts, thanks to which your laundry will be perfectly clean, without the use of chemicals and petroleum derivatives, which are found in common detergents. For a better washing result, we recommend using also natural softener instead of a regular fabric softener, which removes detergent residues, and softens and brightens the laundry. We recommend treating the stains first with soap or another ecological stain remover.
The delicate scent of the washing gel is ensured by the fragrant essences of lavender, no synthetic perfumes. Thanks to the natural composition and perfect degradability of the detergent in nature, the product holds a strict EcoGarantie certificate.
Contains only natural ingredients (certificate EcoGarantie)
Ecologically degradable
Suitable for people with sensitive skin
With natural fragrant essences
Suitable for vegans
Made in Czech Republic
Volume: 1 l (33 portions)
How to use washing gel?
The gel is suitable for washing by hand and in the washing machine with an ideal temperature of 40 degrees Celsius. One litre of washing gel will last you for 33 doses.
If you have hard water, we recommend to increase the amount of laundry detergent used.
soft water - 30 ml for 4-5 kg of laundry
medium hard water - 45 ml for 4-5 kg of laundry
hard water - 60 ml for 4-5 kg of laundry
Natural Laundry Detergent
The package also includes a test strip for measuring water hardness and an ecological water softener. Thanks to the water softener, which contains a mixture of minerals and organic substances, you will achieve better results when washing in hard water, you will not use as much detergent and no detergent will form on the laundry.
Contains only natural ingredients (certificate EcoGarantie)
Ecologically degradable
Suitable for vegans
Made in Czech Republic
Volume: 250 ml + test strip
Guppyfriend Washing Bag
Microfibers are released from all clothing, including ours. However, if you set aside one of these bags for washing our materials, you can collect loose microfibers and then return them for recycling.
We recommend having one bag for one type of fabric and then dispose of the microfibers in a proper way. Thanks to this laundry bag, you can save our water ecosystems and prevent microfibers release.
How the laundry bag works?
Loose microfibers are caught in a laundry bag and collected in the corners. Then you can conveniently pull them out and store them in a box or bag so that you can return them to us for recycling. In addition, by washing clothes in a laundry bag, you protect clothes from damage and thus prolong their life.
Material: Polyamid 6.6 untreated, which itself, due to its structure and patented technology, does not release microplastics

Size: 50 x 74 cm

Made in Europe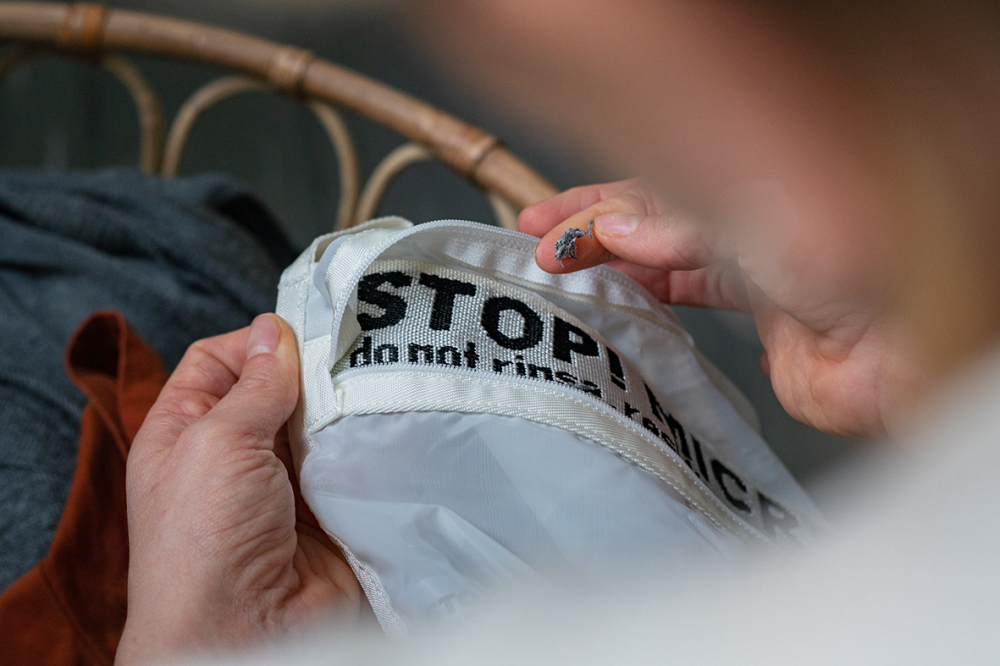 Why are microparticles a problem?
Up to several thousand microfibers are released from clothes from each wash. These particles are so small that they cannot be caught even by wastewater treatment plants. They enter our watercourses and threaten natural ecosystems. Through the food chain, they can eventually reach our plate and endanger our health. A washing bag is great and effective solution to prevent it.