---
Each garment releases microparticles during washing. Synthetic clothes release microplastics but also natural fabric releases microfibers, and due to dyes, they are bad for our planet as well.
Fortunately, there is a solution to prevent their release - this scientifically developed laundry bag. More
Product code: 0600630201001 Shipment and payment
Each garment releases microparticles during washing. Synthetic clothes release microplastics but also natural fabric releases microfibers, and due to dyes, they are bad for our planet as well.
Fortunately, there is a solution to prevent their release - this scientifically developed laundry bag. More
Product code: 0600630201001 Shipment and payment
Microfibers are released from all clothing, including ours. However, if you set aside one of these bags for washing our materials, you can collect loose microfibers and then return them for recycling.
We recommend having one bag for one type of fabric and then dispose of the microfibers in a proper way. Thanks to this laundry bag, you can save our water ecosystems and prevent microfibers release.
How the laundry bag works?
Loose microfibers are caught in a laundry bag and collected in the corners. Then you can conveniently pull them out and store them in a box or bag so that you can return them to us for recycling. In addition, by washing clothes in a laundry bag, you protect clothes from damage and thus prolong their life.
Material: Polyamid 6.6 untreated, which itself, due to its structure and patented technology, does not release microplastics

Size: 50 x 74 cm

Made in Europe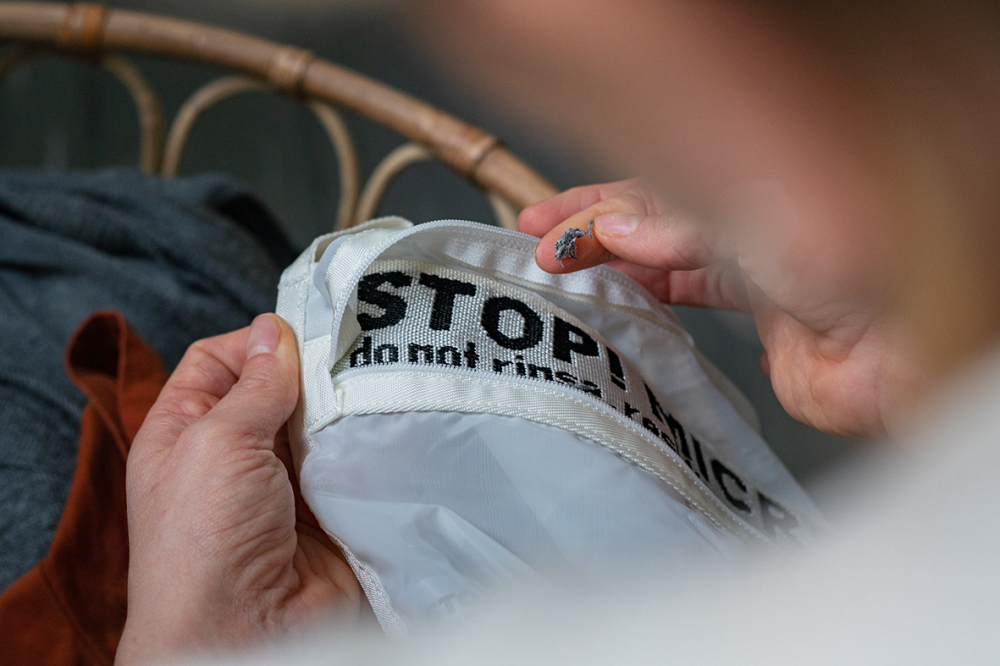 Why are microparticles a problem?
Up to several thousand microfibers are released from clothes from each wash. These particles are so small that they cannot be caught even by wastewater treatment plants. They enter our watercourses and threaten natural ecosystems. Through the food chain, they can eventually reach our plate and endanger our health. A washing bag is great and effective solution to prevent it.